With school starting and fall approaching, I seem to swing into planning mode and this includes planning for my blog. As a teacher, I used to have a brand new lesson plan book and folder for each school year (plus new stationery as well). Blogging, to me, seems no different and the start of a new school year sees me with a moment to reflect on how I've done and plan to move forward.
I do most of my blog planning on a good old fashioned notepad with coloured pens and pencils. I jot down ideas that come to me and use this as a method to plan activities that we do at home and then to post about them. I'm not one for having a set day for anything on Rainy Day Mum – apart from our regular weekly Linky, but that is it – everything else moves around. So planning on paper helps me to keep my thoughts organised.


Blog Calendar for Planning
Once I have ideas roughed out I get my calendar and schedule when I think that I will post them – By the end of the month the calendar is covered in crossing out as new things crop up and I make changes to when I want to post things. As well as a calendar for my own blog, I have a separate one where I schedule my guest posts over the month on different blogs.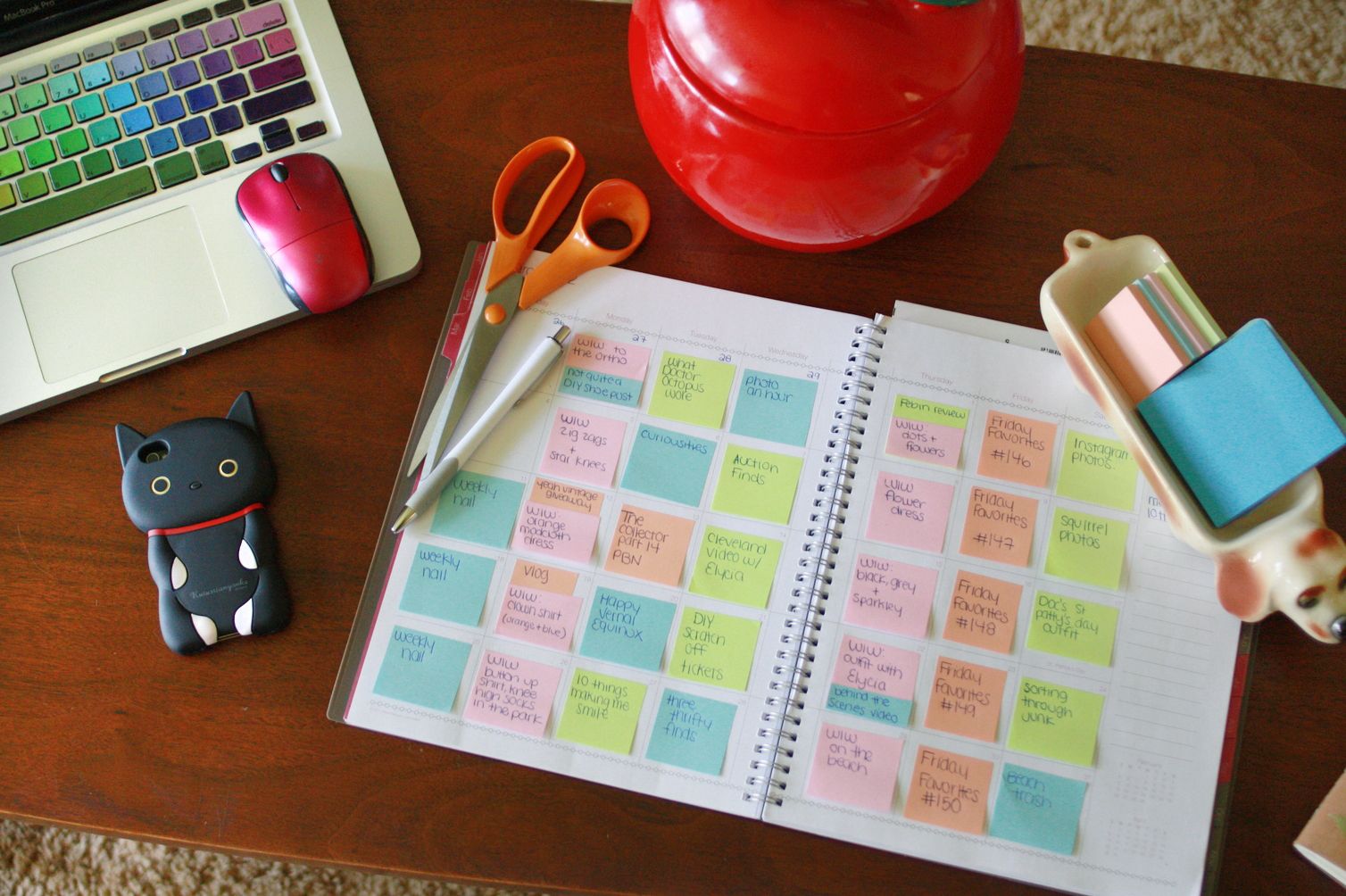 I'm colour mad and tend to use different coloured pens and highlighters on my calendar to show where the post is for and even the topic of the post. I love this idea from The Dainty Squid with the use of Post it notes to colour coordinate the planning process. This would also mean less crossing out and I could move the post it notes around – Anyone feel like a trip to the stationery store after seeing the picture above and stocking up on them?


Blog Post Planning Sheets
Once I have post titles sorted, I then work on sketching out my posts – sometimes I go straight ahead and write them directly into WordPress other times I sit and sketch out the posts on some planning sheets I came up with. I have laminated my planning sheets so I can plan using a dry wipe marker and then when the post is up and written I just wipe off and reuse.
On my planning sheets, I try and work out what keywords I would use in the post and the categories, tags that I will use as well. A nice thing about doing it on paper it means that my children see me writing, plus it's something that I can do wherever I am as well – I'm not tied to wires and Internet connections.


Blog Calendar Printable Download
To help you with your blog planning we have produced a printable blog calendar for you – starting September 2012 and going through to December 2013, Yes, 16 full months for you. Plus, 12 post planning sheets, which like me, you could laminate and use over and over again.
[gview file="http://rainydaymum.co.uk/wp-content/uploads/2012/08/blogplanner.pdf" save="1″]
How do you plan (and keep track of!) ideas for your blog?
Find more inspiration for blog planning on our Blog Planning Pinterest Board!