This week's kid blogger to browse, be inspired by, and of course, share their stuff is: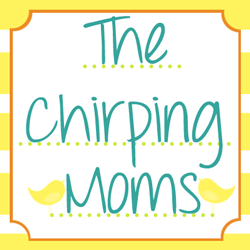 The Chirping Moms are "two moms that are neighbors, friends, and always busy chasing after little ones!"
As the kid blogger of the week, we want to show them some love and get to know them a little bit better.
Courtney and Julie are the moms behind the blog. They're friends and neighbors in real life. Courtney is also found on Have Family Will Travel and has two girls, Maggy and Alex. Julie is a former elementary teacher with three kids, 2 boys and a brand new baby girl. You can read more about Courtney and Julie on their about page.
The Chirping Moms can be found at:
Weekly postings schedule with most recents posts:
Spread the love! Find a post your love of their and share it somewhere. Visit their facebook page and say Hi, or reshare one of their posts to your page.