I love making and offering free printables to my readers.  I get a lot of questions about how to make them and thought I'd offer a quick tutorial to anyone who is interested.  I use all free programs and mostly free clipart.  Free is my favorite word 🙂
What to use to make Printables:
I use gimp to alter any clipart I need or to make general changes like rotating or resizing.  Gimp is basically the free version of Adobe Photoshop but with a bit of a learning curve.
I use OpenOffice to put everything together and export to PDF.  More specifically, I use OpenOffice Write and OpenOffice Draw. (OpenOffice is a free office software to download, very similar to Microsoft Office.)
A few places for free clipart:
As far as free clipart comes, I pretty much only use those sites.  If I can't find what I want there, I go to etsy.com.
For paid clipart, the only 3 sites I go to are:
How to Make Printables:
Now that the basics are out of the way, I'm going to include some techniques I use in OpenOffice.
I do most of my work in OpenOffice Write.  And I use tables on almost every page.  It just helps me to line up everything easier.  Here is how I've lined up a prewriting practice page:

On this page I don't want the tables to show up.  Making them invisible is very easy luckily!  Right-click in the table, select Table Properties and under the tab 'borders' select none.
Now, I'm going to add a picture to the first cell on the left and the cell on the top right.  I want these pictures to be facing each other so I have to flip one horizontally.  This is one of the few changes I can make to images in OpenOffice Write.  After inserting the picture simply right click on it, select Picture… and under the 'picture' tab click the box next to horizontally.

I've got both pictures how I want them and I want a line in between.  This particular sheet is for toddlers so I like to do a thick line.  There is a line tool in the lower left hand corner.  Click on it and you can adjust the line thickness at the top.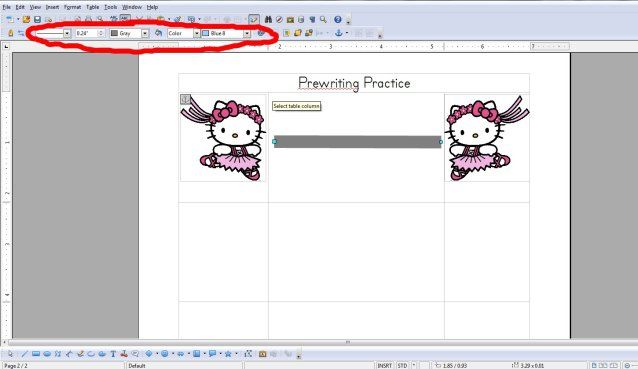 You can see my settings in the picture above.  I change the color to light gray and adjust the thickness until I find what I want.  Then you just draw your line wherever you want it!
After you've finished all your pages you are ready to export!  Simple click on File –> Export to pdf.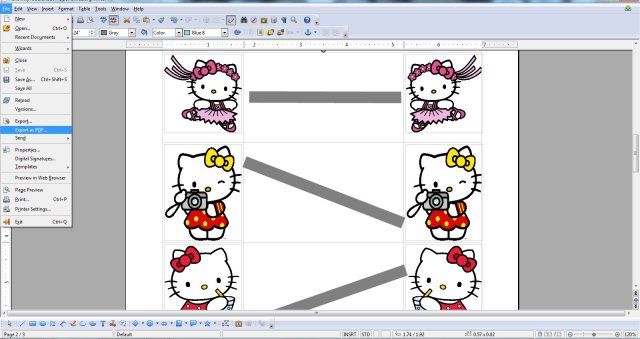 I strongly suggest setting a permission password so your PDF cannot be tampered with.  This is also a requirement of some clip art artists.
When you select export to PDF you will get a popup.  Click the security tab and set the permission password.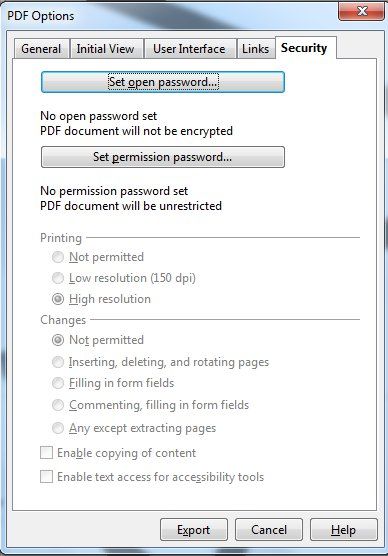 The next step to sharing your printable is uploading it to the internet.  If you have your own host I recommend uploading it to your FTP directory.  This varies based on host so if you don't know how to do it you'll have to contact your host.
If you do not have your own host there are a few sites that will host files for you for free.  The only one I have used is 4shared.com.  I've had a good history with them and I feel that their website is very easy to navigate.
Update your printable and you are ready to share!